We are raising money for an eco-loo for the Muddy Boots Community Garden.
All our thanks if you do!
---
Looking forward to a brighter 2021 for all. Our plans for the coming year are featured below. We are pivoting our non-profit company to become a more widely focused community hub, deploying our project support, funding and management skills across a wider area in South Staffordshire
.
If something catches your interest in our 2021 programme, contact us here…
---
'We have gathered practical advice from 10 entrepreneurs in different business segments to give you a list of advice on how to start your social enterprise. For an in depth guide on how to start a social enterprise visit: https://www.inventshift.com/social-enterprise-start   '
Examples from around the globe – there are social enterprises just down the road from you now!
---
'Profit and purpose are not mutually exclusive elements of business. The field of social entrepreneurship offers meaningful opportunities that exist at the intersection of the public and private sectors. Erica discusses her experiences in and out of the classroom developing self-sustaining business models that combat social inequities in hopes of inspiring more people to take action.'
---
We have some exciting ideas for Broadway Broccoli, and are looking for new ways to support the community food agenda in 2021.
Our web service, blueQuarter.co is looking to develop new clients and to support the web needs of community groups in our vicinity.
The Book Bobbler has been running hard in 2020 to escape the M6, and we have a new books, literacy project and arts themed activity list – now ready to add a renewed energy of 'things to do' for the Broadway team.
We can't wait to have you along for the journey…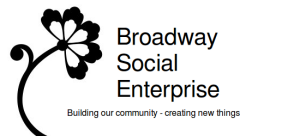 We are a Social Enterprise and a Company Limited by Guarantee
Company number 10716581
Registered office address
1st Floor, Carthouse 3, Copley Hill Business Park, Babraham, Cambridge, CB22 3GN
You can discover what a Social Enterprise is here…
View our historic town here...
---
An occasional video feature; news and ideas from across the charitable and social enterprise sector…
Edition 4. Charity? Sustainable community development from a position of community strength?
( …read a book about it we say too – Ed: )
Cormac Russell talks  about the principles of finding the inner strength of communities and building confidence, skills and sustainable projects from that base. Not from community failure, but from community undiscovered skills and drive.
Although from the middle of the last decade, this is a timely and refreshing reminder of the best principles of community development, whether through enterprise or social change…to help others to help themselves and to celebrate their inherent community capacities too.