Looking forward to a brighter 2021 for all. Our plans for the coming year are featured below. We are pivoting our non-profit company to become a more widely focused community hub, deploying our project support, funding and management skills across a wider area in South Staffordshire
.
If something catches your interest in our 2021 programme, contact us here…
---
A great short video from Social Enterprise UK, over a year old now, but still a fun way to understand what SocEnt's are about. We love it…we re-invest all our surpluses though, into our community project support programme. Bookmark our web pages to follow our journey…
---
A great short film from last month, published by The British Library, allowing projects from across the UK to tell their story. What about? Well, how can we use food to create community and culture in a locale, for the benefit of all. We liked it. (…settle in with a mug of cocoa and piece of Christmas cake for a real 'ideas in action' fest…Ed.)
We have some exciting ideas for Broadway Broccoli, and are looking for new ways to support the community food agenda in 2021.
Our web service, blueQuarter.co is looking to develop new clients and to support the web needs of community groups in our vicinity.
The Book Bobbler has been running hard in 2020 to escape the M6, and we have a new children's book, literacy project and arts themed activity list – nearly ready to add a renewed energy of 'things to do' for the Broadway team.
We can't wait to have you along for the journey…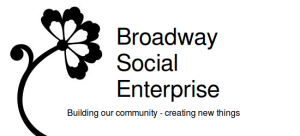 We are a Social Enterprise and a Company Limited by Guarantee
Company number 10716581
Registered office address
1st Floor, Carthouse 3, Copley Hill Business Park, Babraham, Cambridge, CB22 3GN
You can discover what a Social Enterprise is here…
View our historic town here...
---
An occasional video feature; news from across the charitable and social enterprise sector…
Edition 1. Revisiting perceptions of Armed Forces Charities…analysis from DSC Online/Forces in Mind Trust