Latest News:
---
The Christmas Event thank you!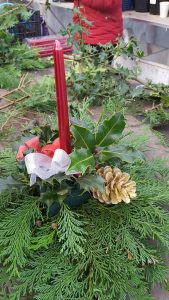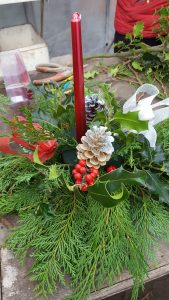 Thank you to everyone who braved the very cold weather to attend our 'Christmas Welcome', in the Muddy Boots garden on Saturday 9th December.
The food we shared was delicious, thank you to everyone who contributed to the feast. We used our new pizza oven, which had the advantage of creating heat too!
Image: Christmas table decorations created in the craft workshop. Held in the warmer greenhouse.
Great work by Harry and Oliver. Well done boys…
Every penny we make in surplus goes directly to support our therapeutic garden and its volunteers.
---
Read our November 30th Press Release here, for more information on our award.
A big thank you to everyone for their support – The Muddy Boots team.
---
Muddy Boots Buddies – kind words from absent friends!
Maerisa sent us a message from Malaysia…read more here
---
Everyone can have 'muddy boots'!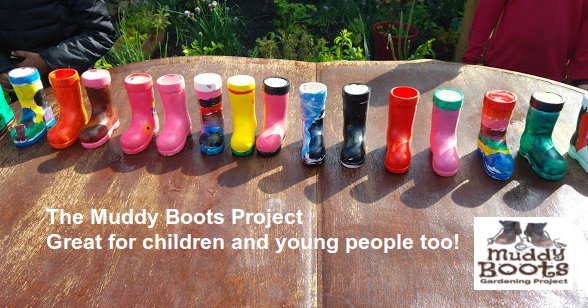 We meet every Thursday morning 9.30 to 12.00 noon behind MIND, 67 Branston Road, Burton on Trent, Staffordshire.

You can get involved by sending us a short message on-line here, or ring John or Chris on 01283 564035.
We all look forward to welcoming you to our project.
Come and learn how to grow plants from seed or cuttings.
Use the gardening skills you already have
Take part in healthy gardening exercise
Improve your well-being
Helps you to make new friends
---
New release for this month on our ever-growing children's books page!
Imagine by John Lennon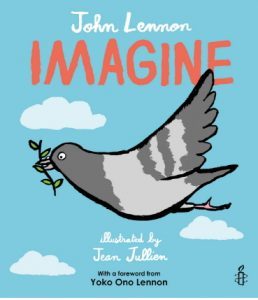 A beautifully illustrated book by Jean Jullien, telling the story of the pigeon who flys the world looking for peace. A messsage that matters in a turbulent world!
You can buy your copy ahead of publication by using the buy from Broadway link below. We'll ship the book as soon as it arrives.
Read more and buy with confidence here…
---
Books for your setting?
We deliver book baskets of deeply discounted, first quality children's books. Ideal as library starters for young children or as fund-raisers for PTA's, schools, childcare settings etc.  See more details here.
---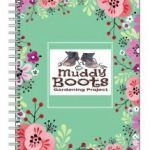 Check-out our new Gift Shop page whilst you are with us. If you do buy something, thank you for your kind support.
Every generous contribution matters to our project volunteers and our community visitors.
---
Broadway Social Enterprise is a not for profit, community social enterprise.
As a Company Limited by Guarantee we have no shareholders or hidden investments and we put all the surpluses and energies created back into our community projects.
We currently serve the communities of Burton on Trent in Staffordshire, UK.
Our team is working towards full charitable status as you read this page.
---
We are incredibly grateful to our funders and supporters who have helped us to create our first project, Muddy Boots, and the community garden and volunteer team that supports it.

Thank you to the Tesco Bags of Help grants programme for their generous assistance. Read more about the programme here.
The Muddy Boots community garden is situated to the rear of the MIND offices in Burton on Trent on Branston Road.

We are grateful for all the help and assistance we have been given by Burton and District MIND in the establishment of our social enterprise, and for the close and successful working relationship we have to specifically carry the Muddy Boots project forward.
---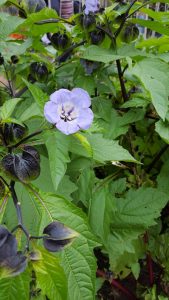 Our Social Enterprise, like all others, has identified an un-filled Social Need.
We saw an opportunity to create a garden/horticultural space which would not only grow and sell produce for our sustainability, but also to deliver support  in a therapeutic way, by using the space to accomodate visitors and volunteers in a 'green' setting.
Along the way we pivoted to the view that the space, the garden, was an end in itself, and that our sustainability could grow from making that space available to a wide range of community organisations and service users. This is what we have done.
Our burgeoning book business, for example, also offers us opportunities to contribute to learning and literacy in our community, as well as fostering cross community dialogue and understanding between our local communities of interest, whether by faith, gender, ethnicity or other defining characteristic.
We warm to the social and economic theories of the philosopher Martha Nussbaum and the social economist Amartya Sen, developing our vision and delivery to countenance the growth of individual and organisational 'capabilities' in our community.
Our Social Enterprise, like all others, must have a Theory of Change.
There are some simple steps in our theory…
– to identify a social need, quantify and give it shape, whlst we argue that the need is critical.
– generate a 'value chain' with processes and relationships that lead to the development of outcomes.
– that every step of our intervention, actions developed become the preconditions to
achieving our ethical, values driven expected results.
– that we will create Indicators to measure the results of our work and publish them.
What then, is a Social Enterprise?
Below is a more complex definition of our work and the cross community, cross cultural philosophical framework it lives within. Important concepts in making our community project sustainable.

You can see the context of the social enterprise sector and the range of activities and community benefit they generate in our region by visiting our Useful Links page here.
'A social enterprise is an organisation that applies commercial strategies to maximise improvements in human and environmental well-being—this may include maximising social impact alongside surpluses.
Social enterprises can be structured as a for-profit or non-profit, and may take the form (depending in which country the entity exists and the legal forms available) of a co-operative, mutual organisation,  a social business, a benefit corporation, a community interest company or a charity organisation. They can also take more conventional structures. What differentiates social enterprises is that their social mission is as core to their success as any potential surplus.
Many commercial enterprises would consider themselves to have social objectives, but commitment to these objectives is motivated by the perception that such commitment will ultimately make the enterprise more financially valuable. These are organisations that might be more properly said to be operating corporate responsibility programs. Social enterprises differ in that their commitment to impact is central to the mission of the business. Some may not aim to offer any benefit to their investors, except where they believe that doing so will ultimately further their capacity to realise their social and environmental goals, although there is a huge amount of variation in forms and activities.
The term has a mixed and contested heritage due to its philanthropic roots in the United States, and cooperative roots in the United Kingdom, European Union and Asia. In the US, the term is associated with 'doing charity by doing trade', rather than 'doing charity while doing trade'. In other countries, there is a much stronger emphasis on community organising and democratic control of capital and mutual principles, rather than philanthropy. In recent years, there has been a rise in the concept of social purpose businesses which pursue social responsibility directly, or raise funds for charitable projects.
The field of social enterprise studies has not yet developed firm philosophical foundations, but its advocates and academic community are much more engaged with critical pedagogies (e.g. Paulo Freire) and critical traditions in research (e.g. critical theory / institutional theory / Marxism) in comparison to private sector business education.
Teaching related to the social economy draws explicitly from the works of Robert Owen, Proudhon and Karl Marx with works by Bourdieu and Putnam informing the debate over social capital and its relationship to the competitive advantage of mutuals. This intellectual foundation, however, does not extend as strongly into the field of social entrepreneurship where there is more influence from writings on liberalism and entrepreneurship by Joseph Schumpeter, in conjunction with the emerging fields of social innovation, actor–network theory and complexity theory to explain its processes.
Social enterprise (unlike private enterprise) is not taught exclusively in a business school context, as it is increasingly connected to the health sector and public service delivery. The Oxford University's Said Business School, does host the Skoll World Forum, however, a global event focused on social entrepreneurs'.
Source text: Wikipedia, Creative Commons licensed. Accessed 24.10.2016 https://en.wikipedia.org/wiki/Social_enterprise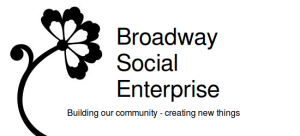 ---