We are always happy to hear from new settings and social enterprise customers in Staffordshire, Derbyshire and Nottinghamshire. Do contact us if we can help.
---
 A Child's Garden of Verses

Robert Louis Stevenson – publ. by Otter-Barry Books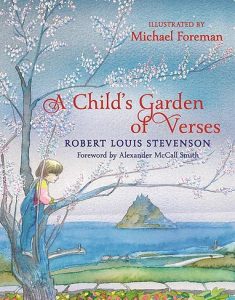 A beautifully presented hard back book of A Child's Garden of Verses by Robert Louis Stevenson and illustrated by Michael Foreman in this magical new edition from Otter-Barry Books.
The verses were first published in 1885, so reflect quite a different era. In 1985, Michael Foreman created the wonderful water-colour illustrations which bring a soft and ephemeral magic to the poems.
Buy this book on-line here…
This latest re-published children's classic,from Otter-Barry Books, has a foreword from Alexander McCall Smith, who begins by saying about Stevenson," He not only knows what children like, but he likes it along with them"
McCall Smith tells of Stevenson's childhood in a family of lighthouse engineers, but he suffered from ill-health and spent much time in his sickbed. May be that it was here that he dreamed and thought of the world beyond. It was also in the Victorian times, when travel to far away places was possible for those with money to spend.

The poems are a delight and can conjure up images of gentle childhoods, as in The Swing,
Till I look down on the garden green,
Down on the roof so brown
Up in the air I go flying again
Up in the air and down.
One of our favourite illustrations is from My Shadow, a poem that will stay with you once read.
This book will make a wonderful present for any junior Muddy Booters, and will add to any school, library and home collection. We are off to read some of the poems now, by the fireside and get ready to dream!
---
Once Upon a Jungle by Laura Knowles and James Boast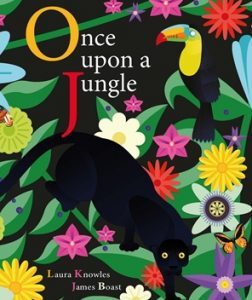 Once upon a time there was a jungle… but that was just the beginning. Delve into the undergrowth to discover the story of a food chain.
A brilliantly, beautiful book  published by Words and Pictures and Quarto Knows, whose concept of delivering visual storytelling is wonderfully portrayed in Once Upon a Jungle.
The black background of the jungle undergrowth gives the brightly coloured images huge impact. I love the preying mantis in bright green, who of course was about to eat the ants, who was then gobbled by the lizard and… well it would spoil it to tell you more.
Laura Knowles has previously written It Starts with a Seed – see below on this page. Her interest in environment and nature has a huge impact on her books. The illustrator James Boast, has a unique style which children will love.

The opportunity both for learning and pure enjoyment is huge in this hard backed book. It is a book to keep at home, to have on the shelves at the library and to deliver a project on in the nursery and school.
You can buy the book now from Broadway Books…
---
All the Wild Wonders by Wendy Cooling & Piet Grobler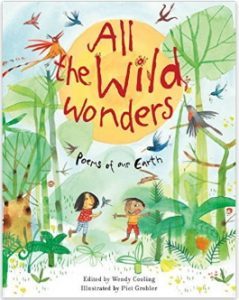 An amazing anthology of poems from Wendy Cooling, beautifully illustrated by Piet Grobler. The poems are compiled to do two things; to celebrate the beauty of the world and to notice the dangers.
Wendy Cooling, MBE, is well known in the world of children's books, in the UK and beyond. She has contributed enormously to supporting the provision of books for young children and is also a celebrated anthologist.
She hopes that at least one of the poems lingers in the readers mind.
Poets are taken from different periods of time, and space, from Christina Rosetti to Benjamin Zephaniah.
Two of our favourites are; The Prayer Tree, Anon, 'I am the beam that supports your house, the board of your table, the bed on which you lie…' and The Old Windmill by Paul Bright, 'Catch the wind, just for an instant,Catch the wind , then let it go…'
The illustrations are superb and involved in the words and lines of the poems, cleverly created by Piet Gobler in watercolour washes of subtle colours which support the poems in thought and feeling.

A recent release from Frances Lincoln Children's Books and an excellent addition for any library, home or school.
---
What on Earth? Bees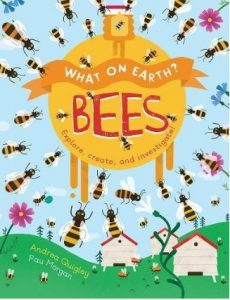 Explore, create and investigate with this wonderful book written by Andrea Quigley and illustrated by Paulina Morgan. Culture, history and the arts. All from a 'bee perspective'. A fabulous book for the young gardner!
Are you busy as a bee?
Bees are the hardest working insects on our planet and without them the world would be a very different place. From looking at the different types of bees to making honey flapjacks, this book takes you on a journey into the life of the bee, bees around the world, making honey, life in the hive and being a bee keeper.
It is packed with facts in this very intriguing style of text and illustration, both working cleverly to enhance the interest and develop a real sense of enjoyment, understanding and learning.

As part of the What on Earth series published by QED this is a great book to have in your home or in the library. I can think of many children from ages 6 -10 who would enjoy finding out more about bees using this book as a guide.
---
It Starts with a Seed by Laura Knowles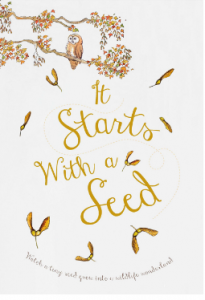 Many congratulations to the winner of the inaugural Margaret Mallett Award for Children's Non-Fiction which was awarded at the English Association's General Meeting on 24th May.
It Starts With a Seed is written by Laura Knowles and illustrated by Jennie Webber, published by Words and Pictures in September 2016.
It is the story of a seed as it journeys from the branches of a tree into the ground and becomes first a young sapling and then a tree. It introduces children to how the eco-system works, it teaches children about the life cycle of a tree, it has stunning artwork and words that easily engage the reader.
"The prize has been established by the English Association in memory of Margaret Mallett, a Fellow of The English Association and a long-serving member of the editorial board of the journal English 4-11, who died after a short illness in March 2017. Margaret was a passionate advocate for high quality books for children, and in particular non-fiction books. She had a deep and wide-ranging knowledge of children's literature, and her reviews of new titles in Books for Keeps and the School Librarian were hugely admired. She was able to get to the heart of a book and deliver a perceptive judgement that was both just and generous''.

'Broadway Books recommend It Starts with a Seed to all our readers, a great book and we are delighted that The English Association begins the awards in great style, in memory of Margaret Mallett, with such a beautiul book'. Chris – working on the raised beds at Muddy Boots
---
Adelaide's Secret World by Elise Hurst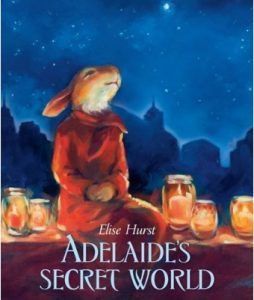 A very special book, a tale of love, loneliness, longing and dreaming. Adelaide's Secret World is inspirational. It is a beautifully illustrated book about how the world changes around you and how sometimes it's hard to change yourself.
Each page has a wonderful illustration of a world beyond Adelaide's little shop, and into finding herself back in the city. The hustle and bustle which she was used to may have gone but there is still life out there.
From her favourite place on the roof of the little old shop with the red curtains she watches the sun rise and fall, she tries to write stories, but there is always something missing.
One day she finds a book left near a puddle, and in the rain and growing storm she finds its owner and a surprising companion, well surprising for a rabbit!
Adelaide's Secret World has been short listed for the Prime Minister's Literary Awards in Australia. Published by Allen and Unwin on 9th March 2017, it would be a lovely book to share across the world, the illustrations are so evocative that the words could be made up in any language.
Elise Hurst is an illustrator and author of childrens' books as well as a traditional artist. She lives in Melbourne, Australia and has illustrated over 50 books.

Allen and Unwin are publishers based in Australia with some brilliant titles and an ethos and commitment to their authors and readers, which is inspirational.
'This was my favourite this month…' – Rita, gardening at Muddy Boots
---
If you did buy a book(s) – Thank You.
Broadway Book Baskets are available for children, parents and carers at most of our project sessions, offering a great range of children's books. We plan to use the small surpluses we make from our book enterprise to invest in more resources across our project work.
For example, buying a Broadway Book for your family or friend, will help us purchase spades and planting materials for our Muddy Boots garden. A book purchase will also help to fund the development of other Broadway Social Enterprise projects as they grow.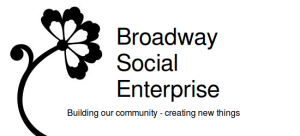 ---