Broadway Social Enterprise Gift Shop.
Our range of gift products are to encourage interest in and support for our therapeutic gardening project…Muddy Boots.
We are delighted to be able to give something in return for your generous support and donations to our project.
With every purchase made, anywhere on this site, every penny we make over the cost of the goods and materials goes directly to support our gardeners, their equipment, safety, training and support.
All designed to deliver sustainable funding to our raised beds – to keep the garden open and available for every single visitor across our community.
Thank you for your purchase.
---
The famous Muddy Boots calendar is here for 2019.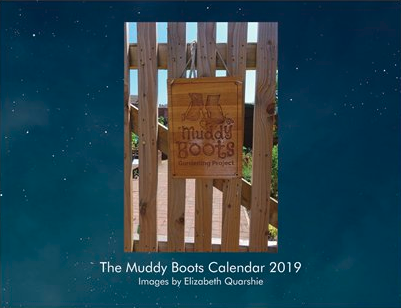 This fab, glossy production is a visual treat and just the right size to for the kitchen pin board, in the office or for hanging on the door.
Brilliant, glossy images across the seasons by 'Muddy Booter' Liz Quarshie.
A big thank you to our photographer.
A seasonal snip at £10.00 – all our surpluses go to support our volunteers and their work in our therapeutic garden at Muddy Boots.
---
The Gardener's Notebook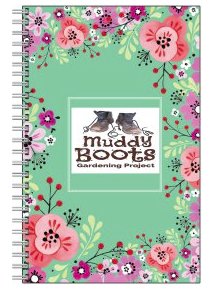 A nice quality, bound notebook for creating your own gardening plans, or just keeping a note of your volunteering schedule.
Our distinctive graphics make is a simple, elegant reminder of our project.
Priced at just £6.00      (We deliver…allow 7 days)
---
The famous Muddy Boots Mug
Perfect for a half time break when you have been digging or pruning.
Solidly crafted and with a secure handle, you won't miss it on the shelf with our eye-catching Muddy Boots badge on the front.  (Securely packaged in its own individual transport carton.)
Priced at only £8.00       (We deliver…allow 7 days)
---
The Broadway Mouse-mat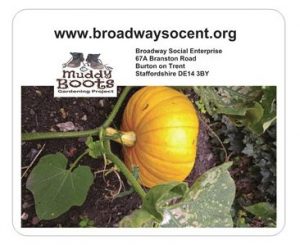 Always keep our web-site address handy with our mouse-mat. Brightly coloured and made of durable mouse-friendly material.
Our mouse-mat also makes an ideal seasonal or festival gift for a Broadway supporter.
Priced at only £10.00      (We deliver…allow 7 days)
---