Signing in to the garden concourse, to the rear of the local MIND offices in Branston Road, we could hear the sound of tree felling and wood chipping.
Was this industrial gardening at its height? Not a bit of it, all this was several gardens away, thank goodness.
In the Muddy Boots garden there was an air of quiet calm and good fellowship. The morning autumn sun was illuminating the flowers in the new raised beds and also casting a ray of light on the refreshment gazebo, scattered with Freetrade coffee cups and fresh scones.
All was verdant.
The Muddy Boots book stall was being refreshed too and the children were using the end of the table to make delicious seed cake moulds, so that we could also cater for avian visitors to our Open Day event.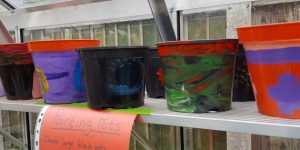 The garden greenhouse was stocked with paints and brushes and there was some fantastic artwork and pot decoration ideas being grown in the warm atmosphere of our tomato packed glass 'studio'.
At the central garden table John was managing a supply of pumpkins and sharing his in-depth knowledge of vegetable Halloween lanterns with old and young. To fantastic effect we must say.
There were plenty of chairs scattered around the site, for visitors who were most happy to sit and observe the activity, or to reflect in contemplation the bounty, human and vegetable, that our new project was fostering.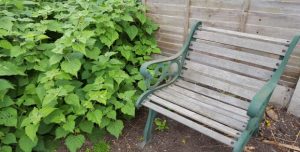 The chairs came in most useful as our story-teller for the morning, the award winning Maria Whatton, engaged us with stories, both about gardens and also about how valuing others was important. (See below for more details of Maria's latest performances.)
As we were settling in for the session, and rapt, interested faces were being turned toward Maria, a helicopter flew low overhead and a mobile phone went off. None of which phased our professional story-teller at all and we went on to sing together. With Maria's guidance, we also named all the flowers in gardens, real and imaginary, we could remember as part of a story. A wonderful shared project experience for all ages.
By lunch time the wind had turned to chill and coats and scarves were being reached for. However, the project had supplied fresh rolls and home-made leek and potato soup, and tomato too, for the assembled garden visitors.
As the clouds began to roll over the sky, the shared meal was a wonderful winding down end to a great Open Day.
If you did, thank your for your visit. If you couldn't make it, don't forget our regular Thursday Muddy Boot Volunteer Days. We'd love to see you then too!
Read more about our garden volunteering here.
…………………………………………………..
About our Story-teller:
Maria Whatton is a story-teller in the Irish tradition, a Seanchaí, who is adept at engaging young children with fantastic tales, meaningfully and entertainingly told.
You can discover Maria's work on-line here.
She is currently touring in October and November 2016 with her daughter, Maria Sinead, in a retelling of Shakespeare's The Tempest, appearing at the Brewhouse Arts Centre in Burton, Chesterfield Library and the Lichfield Garrick Studio Theatre. Check local web pages for details.
Thank you Maria.